Speak with us to book a class now.
Where
United World College (SEA) Pool
1207 Dover Road, Singapore 139654
When
Our Prime timings:
Saturday and Sunday
4:00pm - 4:45pm
4:45pm - 5:30pm
5:30pm - 6:15pm
6:15pm - 7:00pm
All weekdays
We will fit your timings
Custom Class
If you have a specific time and location in mind, speak to us!
Why take the Kids Swimming Lesson?
Benefits of Kids Swimming Lessons
Swimming is an important life skill that your child can use throughout their life. Ensure that they are well equipped with the necessary skills to persue thair potential both mentally and physically. Here are some reasons why your kids should learn to swim.
Swimming improves social skills
Many swim lessons are conducted in groups. Getting them started is a great way for them to meet and interact with other children of the same age and interests. Your kid will also learn aspects of teamwork, friendly competition and develop a spirit of excellence in mastering a skill. They will learn how to interacted with others in a fun yet safe way.
It improves your child's strength and gives him tools for fitness
As your child learns to swim, his or her muscles develop, resulting in greater strength. Because swimming is a full body activity, an added benefit is motor skills and cardiovascular health. However, as importantly, they learn a skill that they can utilise for fitness throughout their lives. More so that swimming is a low impact sport, thus they will be able to reap the benefits for a long time.
A new activity for the entire family
After your kid learns to swim, think of how much the 'things we can do as a family' list expands! Everything from beach activities while on holiday or even a Sunday out at the pool become possible!
What do you learn in Kids Swimming Lesson?
Swim Confidence
Kids will learn how to swim safely and confidently around the water.
Breathing Techniques
Kids will be trained to hold their breaths for a longer period of time. They will also learn different techniques on proper breathing.
Swim Strokes
Kids will learn how to kick and paddle. They will also learn the basic swimming strokes, such as the butterfly stroke, backstroke, and etcetera.
Floating Techniques
Kids will learn how to float freely around the water.
Evaluations
Activities to evaluate their performance will be conducted, like swimming back to the edge of the pool and staying afloat for a longer period of time.
How to make the most from Kids Swimming Lessons?
The stages of the Kids Swimming Lessons
The goal of 7 stages of Kids and Teens swimming lessons is to prepare the learner from a non swimmer to highly proficient swimmer. At each stage our swim coach will evaluate the level and advise accordingly for progression
Beginner (16-20 weeks)
Intermediate (16-20 weeks)
Advance (16-20 weeks)
Bronze (16-20 weeks)
Silver (16-20 weeks)
Gold (16-20 weeks)
Pre Competition (on going)
Where are the Kids Swimming Lessons conducted?
How often do we conduct the Kids Swimming Lessons?
Kids swimming lessons are conducted weekly and can happen any day of the week.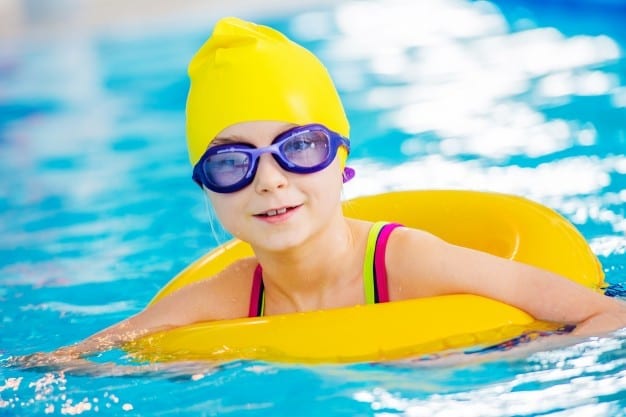 Who should take up the Kids Swimming Lessons?
Kids aging from 4 years old and above are encouraged to take up the Kids Swimming Lessons.
Who will be conducting the Kids Swimming Lessons?
We love to give you and your child the best swimming experience! That's why we make sure that our swim instructors are experienced, expertly trained, and certified by Singapore Sport Council and Singapore Swimming Teacher's Association.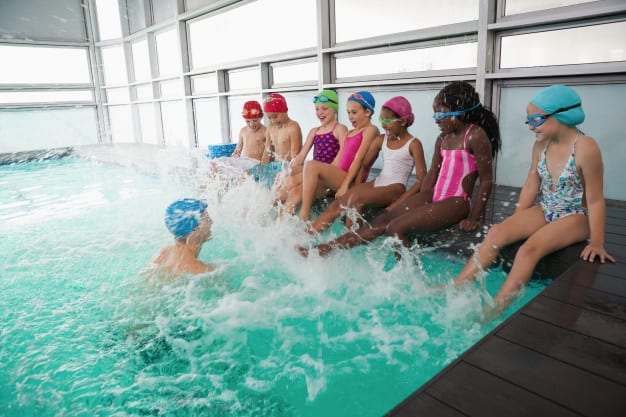 Sign Up for our Kids Swimming Lessons
Take your child to swimming lessons today!
When would you like to start?
Swimming Lessons - Home Query
Frequently Asked Questions
Questions? We are here to help.
Chat with us via whatsapp, messenger or email if you have any enquiries. 
Parents/guardians are required to declare any medical conditions that the child has. The school has the right to withdraw his/her enrolment if regarded medically unsuitable for the programme.